Before (1969) and After (2012)
ALL Behind Bars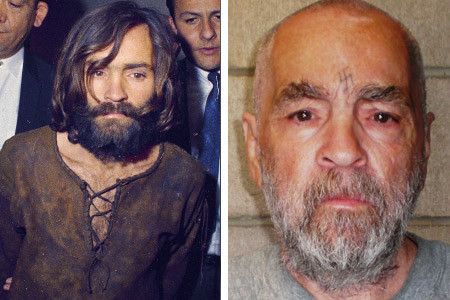 My Eyes are Buggy from uploading patterns today, (going on 10 Hours)
So lets take a little break and talk about Charles.
Not going to Rehash the Actual Crimes......
But Because of Ol' Bug Eyes - it did leave (10) innocent people dead
1. Sharon Tate
2. Paul Richard Polanski (Sharon's un-born Child)
3. Jay Sebring
4. Abigail Folger
5. Wojciech Frykowski
6. Steven Parent
7. Leno LaBianca
8. Rosemary LaBianca
9. Donald "Shorty" Shea
10. Gary Hinman
There's 1000's of People out there that Claim, That Charlie should be FREE.
(Because he Did not Actually Kill Anyone) with his own Hands.
After getting another 15 years before the Next Parole Hearing,
Looks like Charlie will Die in Jail - So SUCK IT! - Pro-Manson Freaks.
It sickens Me to read this crap online. If it wasn't for Charlie, ALL these Folks would still be alive. He ordered the Murders, He Slashed Gary Hinmans ear with a Knife, He tied up the LaBianca's and he Sent those Crazies to the Tate house. And he was there when Shorty Shea was murdered.
So this guy Just spent the Last 43 years in Jail over "Helter Skelter"
A made up Race war, between Blacks and Whites.
To be Honest, I never believed this was the Real Motive behind the crimes.
Don't really matter the DA (Vincent Bugliosi) was able to Sell it to the Jury and get them all Convicted.
In case your wondering What I think was the real Motive.
It was Copycat Murders to get their "Brother" out of Jail.
Manson Family Member Bobby Beausoleil aka Cupid, was in jail for the murder of Gary Hinman,
After Bobby Killed Gary, He and Susan Adkins Wrote on the walls in Gary's Blood.
Bobby took one of Gary's Cars, and was pulled over, they also found the murder weapon in the car. so Bobby's in Jail for Murder (still is BTW)
So Charlie and the Girls came up with the plan to kill others in the same fashion,
Slaughter them, then write words in the victims blood.
The thought was the Police would FREE Bobby, for the REAL Killer (of Hinman), must Still be out there.
To Date - Only One Manson Family member has been Freed from Prison (on a murder charge). And that's Steve "Clem" Grogan who helped kill Donald "Shorty" Shea.
after years in prison, Grogan assisted the authorities and drew a map to where Shea's body was buried. Shea's remains were discovered in December 1977 (8 years after he was murdered) Grogan was released in 1985
Let's hope All the others never Get out !