Found this on a Blog - their Pretty Cool !.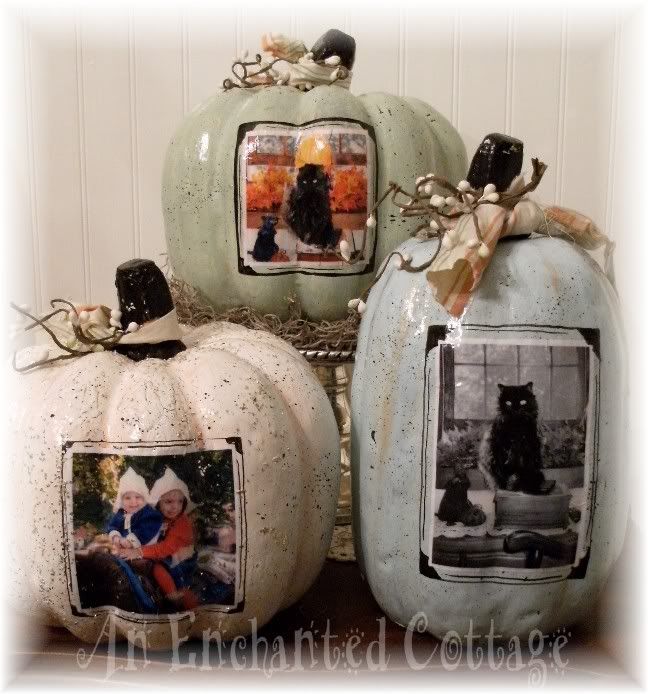 Here's the Directions:
1) Fake pumpkins (mine were from Wal Mart: tall pumpkin 5" across/8" high; short pumpkin 7"across/5"high (I would have bought white or black pumpkins if I could have found them but had to settle for orange, which is a harder color to paint over);
2) Family photos (sized down to fit pumpkins and printed out on my HP ink jet);
3) Sealer (Delta all purpose craft sealer) You can skip this if you are not changing the background color of your pumpkin;
4) Acrylic craft paints (whatever colors you choose... I basecoated all my pumpkins Black (for distressing purposes) before painting the 'finished' colors... I used Delta Light Ivory, Delta Village Green, and My Studio Robin's Egg Blue (mixed with Light Ivory), and black for stems and decorative trim around photos;
5) Brushes (foam brush for overall painting, medium round for easily painting around stem, long liner for painting decorative trim around photos);
6) Decoupage Finish (Plaid Royal Coat);
7)Varnish (Delta Gloss Varnish); rag strips or ribbon for stems (optional)...
Link To Donna's Blog