Jim:
Okay Lets Start with Knowing what the file extensions are.
For my patterns - The shaded are GIF and the Cut-outs are PDF.
BUT: To see Every Extension of files on a windows Machine.
Make sure windows is set-up to show the Extensions.
I'm on Windows Vista, But think some early releases also Hide Extensions as a Default.
Go into ANY Folder on your Computer. At the top of the screen:
Click on: Tools then Folder Options
Next when you get to the Folder Options Screen:
Click on the VIEW Tab
Make Sure where it says: Hide extensions for known file types.
is
UN-CHECKED
This will now show the File Extensions when you open a Folder.
Like So: (See you can see the Extension of the File.
this shows both these images are Gif.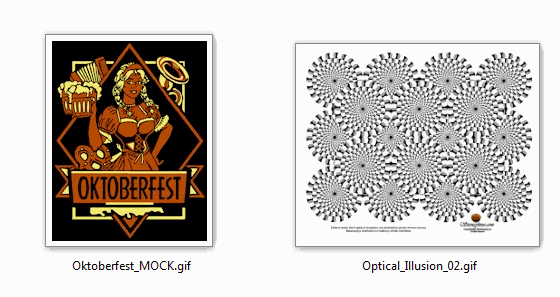 NOW FOR PDF Files Which is Not Supported by ProPoster.
The PDF needs to be Converted to a Format that Proposter Does Support.
My Graphic Software is High end - and not for the typical user.
Like Photoshop / Illustrator / Corel Draw / Paint Shop Pro. So I have no problem
Converting any Graphic File.
There's So many Graphic Programs that Do Support Conversion from PDF to other formats. Honestly to many to name.
If you have some sort of graphics Program see if you can load a PDF and save it as something Else,
Here's a Small Program that will Convert PDF to JPG. And it's FREE
http://download.cnet.com/Office-Convert ... 00900.html
Another way to go, is if you have a scanner you can Print the PDF
then Scan it as a JPG. But the Software Approach is the Way to Go.
instead of wasting paper.