Also to add, Don't know what wheel your Using,
Some have a Bolt that goes through the Top of it.
If you have that type, make sure that Bolt is Very Tight.
You may need a Pliers to hold the Stem, and a Wrench or Socket Wrench to Tighten the Bolt.
Like this one has a Bolt with nut on bottom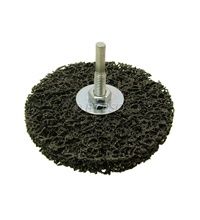 If no Bolt, then as Doh said tighten with a Allen wrench, the two small allen Screws.
On the Stem of the extension rod.