Okay I have to Post quick - still have tons to do for Farm Tomorrow.
I just tried this On one Kin and it worked Most Excellent.
I was in Office Max getting some things Lamented.
And I Decided to Try this Out.
I bought a Pack of Avery Full Sheet Sticker Paper. (15 Sheets to a Pack) $12.99
Number #3383
I printed one of Zombies Cut-Outs on a Sheet.
Peeled the Paper off the Back, and Slapped it on the Gutted Kin.
I then Carved right through the Paper = NO Problem. Worked GREAT.
Because this Worked SO Good - I just ordered 200 Sheets from these Guys.
100 sheets = $10.50 a Box (I'll Have to test these when they come in)
I'm sure they are thinner pound Paper (but thats More the Better)
Click Here to Order
Again this Brand Sticker Paper - has NOT been Tested as of Yet.
One Suggestion is to use a Saw Blade with Little Teeth, this will stop the paper from Tearing.
Get the Saw Blades at Home Depot or Lowes and Use the xacto Handle .
Follow the Tutor on How to make these.
Here's PIX: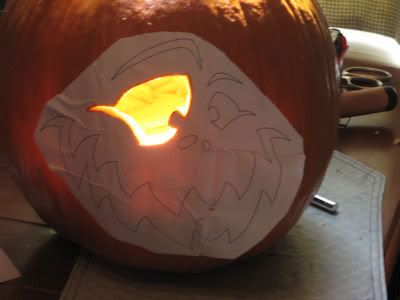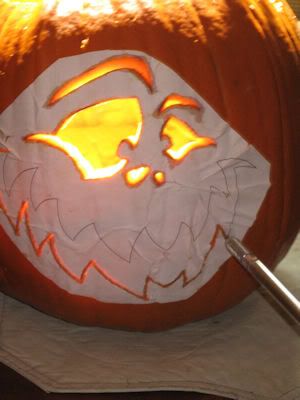 After you Remove the Remaining Sticker (which comes off VERY EASY)
Just go Over the Whole Carving with a Damp Towel, or Damp paper Towel)