How to Enlarge or Shrink
Your StoneyKins Patterns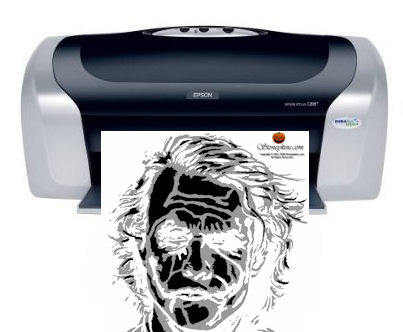 #1
This tutor will show you how to print your pumpkin patterns
And Have the pattern Fill your Sheet of paper
Most Pattern sites including this one will add, a Copyright notice, or the websites Logo,
and sometimes carving directions to the Pattern
this is a must for any site, but it does create wasted paper space for the actual pattern image.
We want to get the most from our pattern on one sheet of paper.
Most carvers Carve Medium, Large and Jumbo size pumpkins
this tutor will show you, how to print a pattern to match the size of your pumpkin.

HERE'S AN EXAMPLE: The Red represents Dead Space, So on a Standard 8 1/2" x 11" Sheet of Paper
The Pattern Image itself is only about 7" High How will that look on a 13" Pumpkin
The Answer = SMALL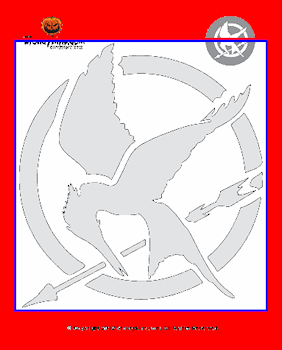 #2
Use the Right Tool for the Job:
And that Tool we recommend is "Poster Printer" by Ronyasoft.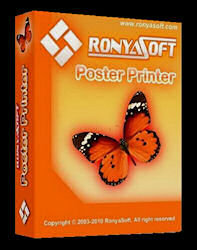 Stoneykins has Partnered with Ronyasoft
To offer our Visitors and Members 25% Off this Great Program
Look Below for the 25% Off - Coupon Code
This is the only software, I use to print ALL my pumpkin patterns.
I have used it for many years.
Pro Poster, can Enlarge or Shrink your Pumpkin Pattern to Fit on any size Pumpkin.
ALL Stoneykins Patterns are in scalable PNG Format Even if a one sheet pattern will fit on the pumpkin,
you can make the overall image even larger.
#3
HERE'S AN EXAMPLE: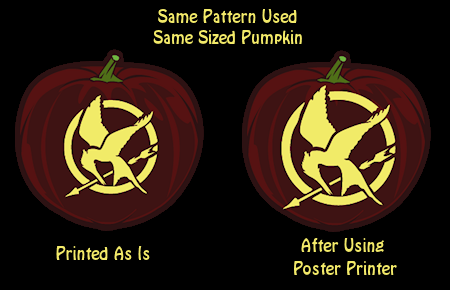 #4
How to Use Poster Printer:
To Enlarge Pattern Image on one page
Load your Pattern into Poster Printer.
Click the Load From File Button


Or goto - Image/Load from File.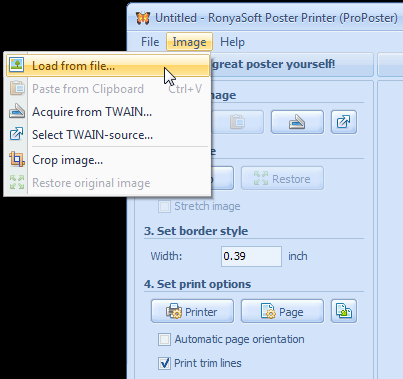 Here's Our Pattern Loaded in the Program: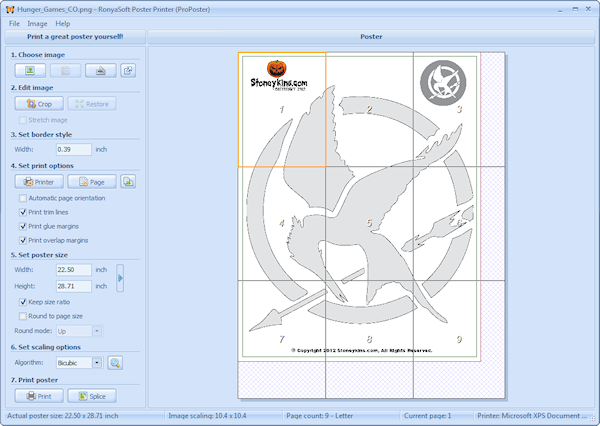 #5
Lets Start First By Cropping our image.
Click the Crop Button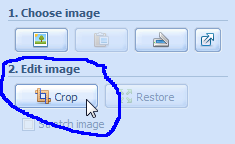 Or Go to Image/Crop image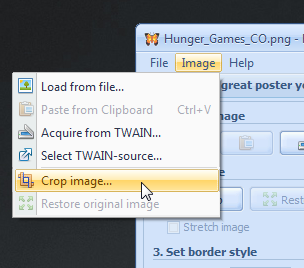 This Will Open up the Crop Tool Window.
Note: When you Crop in this Program,
it does not Change/Crop the Orginal Image/Pattern. It Loades a Copy of the Image.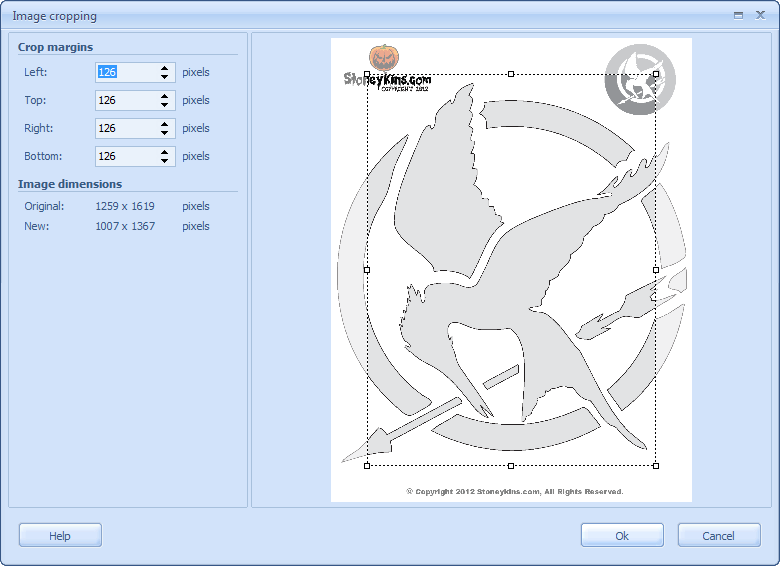 With your Mouse, Grab and Drag the Handles,
(The Handles are those little white squares)
Too Just outside the Pattern Image,
Whatever is inside the dotted Box, is what is going to print
Then Click the OK Button (Bottom of Screen).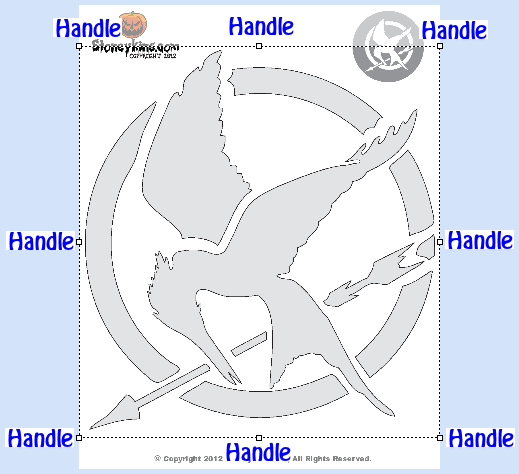 Here's Our Cropped Image: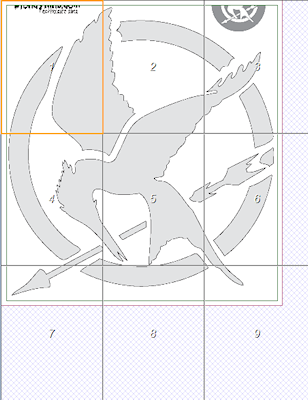 Now We Just need to RE-SIZE our image.
The Size of the Pattern depends on the Size of the Pumpkin.
Example: If it's a Large 13" Micheals Foam Pumpkin.
We want the Pattern to Fit on a Standard 8 1/2" by 11" Sheet.
As Large as we can get the image on one Sheet.
For you Folks Overseas,
The programs Settings can be changed to mm or cm instead of inches.
I Played with the width Number, until it filled the Sheet.
Tried 8.4 then 8.5 and then 8.6 (8.6 was the Winner) !
Largest we can get it on one Sheet (OUR GOAL)
Also Make sure you have "Keep Size Ratio" Checked.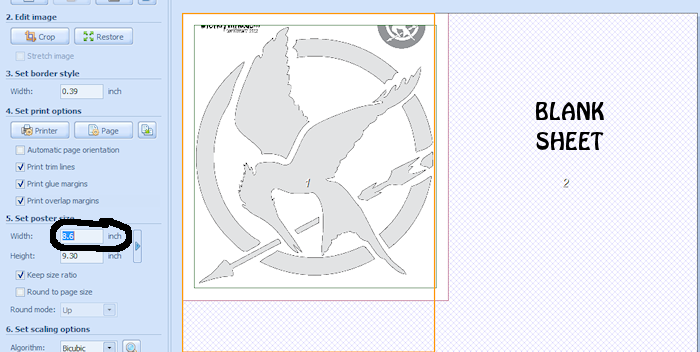 The Image above Shows that pattern will print on one sheet of Paper.
and there's a (2nd sheet that will Print Blank) - We'll Fix that.
When We go to Print it.Lets Print Our Pattern.
Click the Print Button on Bottom of Screen.


Or Goto: File/Print
And Change the Print Range Number
From (1 to 2) To (1 to 1)
So Only the First Page Prints.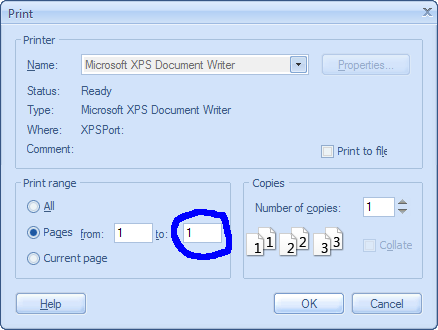 That's it for a One Page Pattern.
#6
Printing on 2 Pages to Enlarge the Image
Even on a Med sized pumpkin you may want to blow up the image Even Larger
So to fill the front of the Pumpkin
Follow the Steps Above (Always Crop the Image First)
Then Change the Height of the Image. We want this pattern 11 inches High.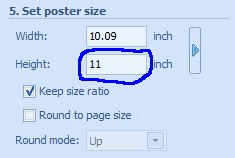 Which gives us this: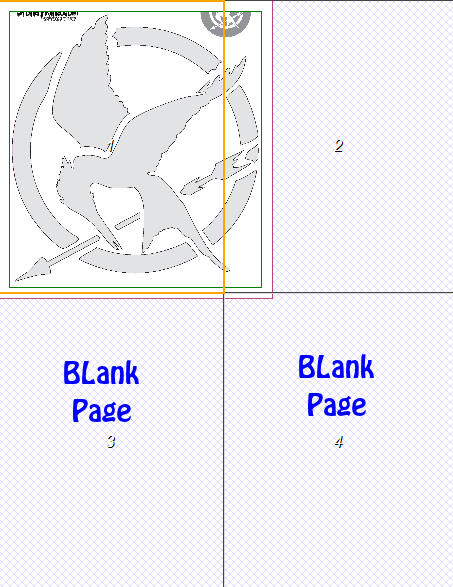 Hit Print and Change the Print Range
From (1 to 4) to 1 to 2)
This will only print out the top 2 pages.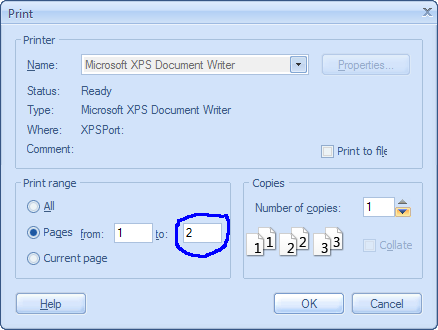 After Printing, Just tape the 2 pages together.
You Now have a Larger Pattern for your Pumpkin.
#7
Enlarging your Pattern

Let's go HUGE !!
Good for Large & Jumbo Kins or Windowkins.
If you need to enlarge your Pattern for Large Pumpkins, or for Windowkins etc...
a) Crop as Above
b) Change the height to whatever you need it to be.
Here we made the Pattern 24 inches High to fit in a window.
Change Height to 24 and Print
This Pattern will Print on 9 Seperate Pages
Just print them out and Tape them together.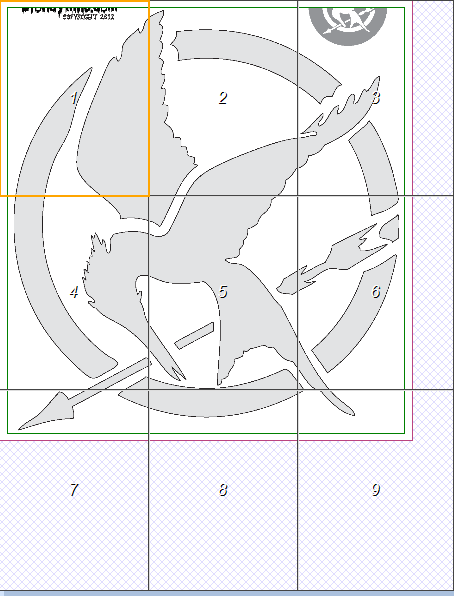 #8
Shrinking your Pattern for Small Kins.
If you need to shink your pattern for a small pumpkin or Foam easter Egg etc...
Follow the Steps Above (Yes also Crop the Image)
(Cropping gives you Actual Pattern Size)
Then Change the Height of the Image. We made this 6 inches High.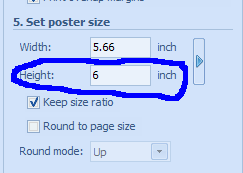 Which gives us this: Again By Cropping the Image First.
he Pattern Below will Print, exactly 6 inches High.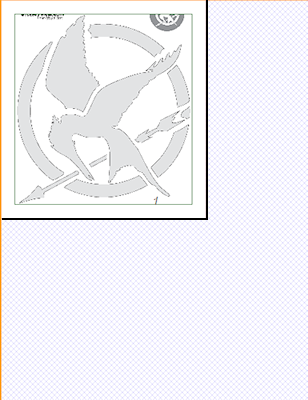 #9
ORDER Poster Printer
To Order Poster Printer Home Edition
Click the Box and Enter the Coupon Code Below to get 25% OFF
Normally $19.95 - Using Coupon Code "Stoneykins" $14.96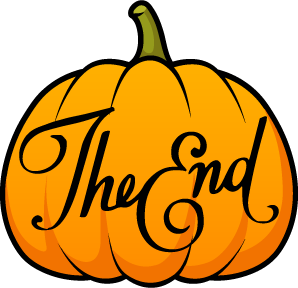 HOME - PUMPKIN PATTERNS - CUSTOM ORDER - FORUM - HOW TO?
CARVING TOOLS - MEDIA - LINKS - SITE MAP - TERMS OF USE / PRIVACY POLICY- CONTACT US