Christmas Stenciling
From Cut-Out X-Mas Patterns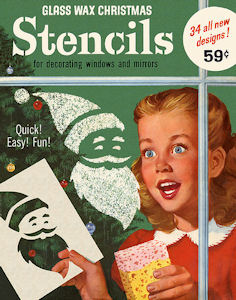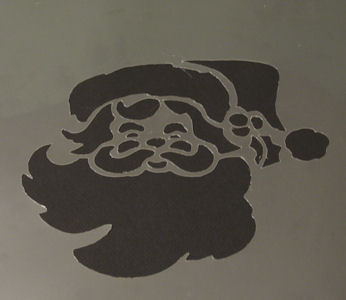 In this tutorial we will do a few different projects including:
Make Your Own Reuseable Acetate Stencils, Window Wax Stenciling
and Stencil a Tee Shirt with a Reuseable Acetate Stencil
I'll Also Toss a few other Idea's Out.
"Here's a Step by Step on the Entire Process"
---
First we'll Start by making a Nostalgic Glass Wax Stencil.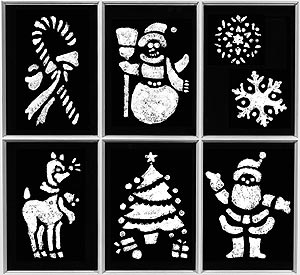 I'll Show you How to Make them, Apply them, And then Remove Them.

Most of the compaines that made these Wax Stencils, no longer exist.
And sources to buy them is very limited
So I have spent countless hours - Re-Drawing these Classic Window Wax Stencils
And will be offering a few different Stencil sets in the sites store.
It's really a cool simple family craft, (Adults Should make the Stencils) But the Kids can apply them.
Liquid Window Wax was originally made to clean glass windows
Then some bright person realized that window wax could be used for another purpose
and voila, Glass Wax stencils were born.
These were made of waxed paper (were going to make them in re-usable acetate)
They came in all sorts of Christmasy motifs:
Santa in his sleigh and also coming down the chimney,
reindeer, bells, angels, snowflakes, a nativity scene complete with a shepherd and Wise Men with camels.
You applied the Glass Wax with a dry sponge and presto, your windows were festive.
Then when Christmas was over, you wiped off the stenciling and the windows were also clean.
It was a decoration any mother would love.
If you are really ambitious,
You could add a few drops of food coloring to the liquid Glass Wax and have multicolor festiveness.