How to Carve a
Foam Craft Pumpkin
Using a Dremel




#1
This is what we will be carving.
The Tutorial is based on using full sheet Sticker Paper & X-acto Knife.
For Pattern Transfer.
And Carving the pumpkin with a Dremel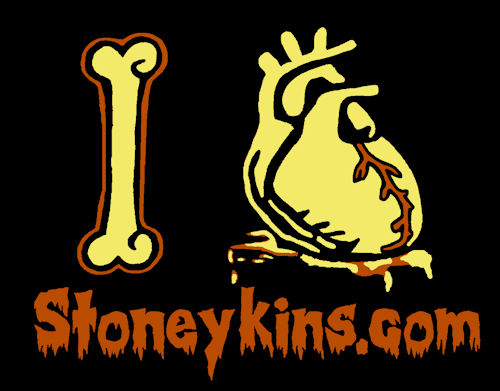 #2
First Print Out your Pattern On Full Sheet Sticker Paper
You Can buy Full Sheet Sticker Paper at Any Office Supply
Staples, Office Max, Office Depot etc.....
We Found the Best Deal Online:
100 Sheets for $10.45
We Use the "Standard White Uncoated Scored" ( INKJET/LASER Permanent )
To Print the Pattern I use a Poster Program
There's a Full Tutorial on The best way to Print your Patterns
Click Here To View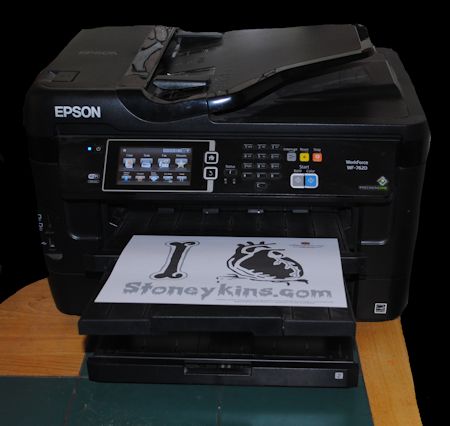 My Printer Rocks - Epson Workforce WF-7620

#3
Cutting the Hole in the Bottom
The Size of the Hole Depends on the Pumpkin - if it has Black Lines or not.
If your Pumpkin DOES Have Black Lines, You will want the Hole to be 4" Round.
This is Large enough for the Paint stripper Wheel.
To Cut the Hole I use:
1) a Pencil (I will use marker just for the Tutorial so you can see the line.
2) A 4" PVC Coupling used as a template for a perfect Circle
3) A Hot knife: to make the Cut,
Using a Hot knife will give you a Nice Snug Fit, So you can Plug it Back when the carve is Complete.
Use the 4" PVC Coupling to mark the Circle
Place it on the bottom of the pumpkin and trace around it with a Pencil.
I Also Add one small Line Across the Circle, to show how to place the plug back in.
This makes it easy.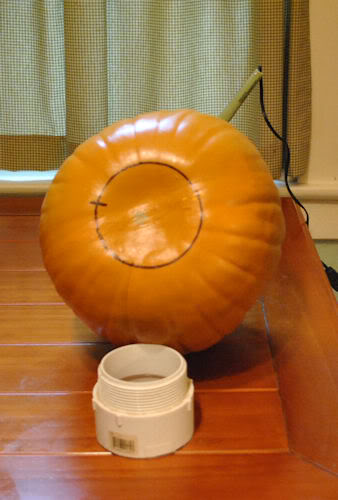 Cut with the Hot Knife
Once you go all the way Around just push it into the pumpkin
then Remove.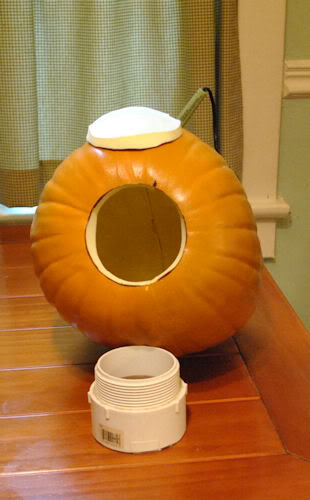 If the Pumpkin Does NOT have black Lines
I would still cut a hole in the bottom to remove Pieces you cut out and Foam Dust.
But I would make the Hole 2" inches instead of 4" inches.

#4
Removing the Black Lines
If your Pumpkin Has Black Lines,
To remove the Lines they Need to be Sanded Down.
A Tip from Carver Doh: is to use a Paint Stripper Wheel with an extension Rod hooked up to a Drill.
Paint Stripper Wheel: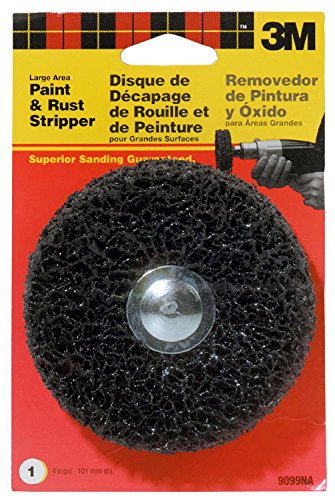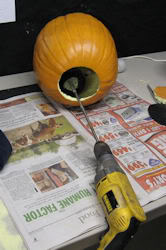 Place the pumpkin between your Knees to hold it,
Place the Stripper Wheel inside the Pumpkin
And use an Up and Down Motion, until the lines are Flush with the Rest of the Pumpkins Foam.
Hopfully Next Year there will be No Black lines in the Pumpkin !

#5
Placing the Pattern on the Pumpkin
Peel the Paper Back off the Sticker Paper, And place it center on the pumpkin,
Use you finger to go down the center groove of the pumpkin.
Then Work the pattern Around doing one side at a time.
I still will cut some lines in the pattern , and also will make sure any wrinkles fall outside the pattern Area.
You Can Also Create Folds, as long as it does not interfere with the Patterns Design .
a Tip is if you make the pattern a Little Damp, it will be easier to place on the Pumpkin.
BUT: You have to make sure it is completely Dry, Before Starting to work on it.
You can use a Heat Gun, Or Hair Dryer to speed up the Drying
It's only Damp Water So it will only take a Minute or two.
If Hot and Sunny Outside place it in the sun to Dry.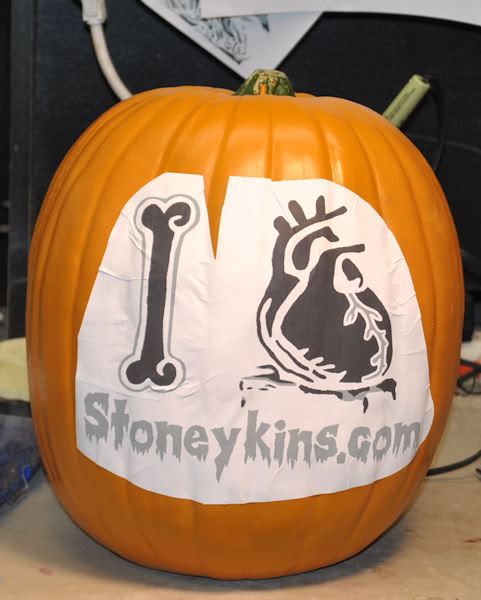 #6
Outlining the Cut-out Shapes
I normally SKIP this Step, I don't have the time you guys have to carve.
So I just Cut out the Black Shapes with the Dremel.
For this Tutorial - to give you the Cleanest Lines Possible. We will use an X-acto Knife.
If you still want to Outline, but not use a Razor,
You can Outline with a 1/32" Drill bit in your Dremel,
Just go Deep enough so some foam Dust Comes to the top.
Okay X-Acto - Make sure you Buy a Comfy One, I recommend the X-Acto X2000
it has a Rubber Handel and also Has a Bump so it does not roll off the table and stab you in the leg.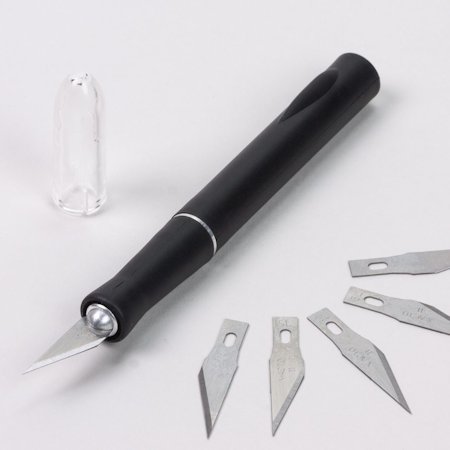 Make Sure the Blade is Sharp, their Cheap so replace the Blade if Dull.
A Very Sharp Blade makes a HUGE Difference.
Carefully go around each BLACK Shape and Remove the Sticker paper from that Shape.
Keep going until you Do them ALL !
You can use the tip of the X-acto to pull the sticker up, to get it started.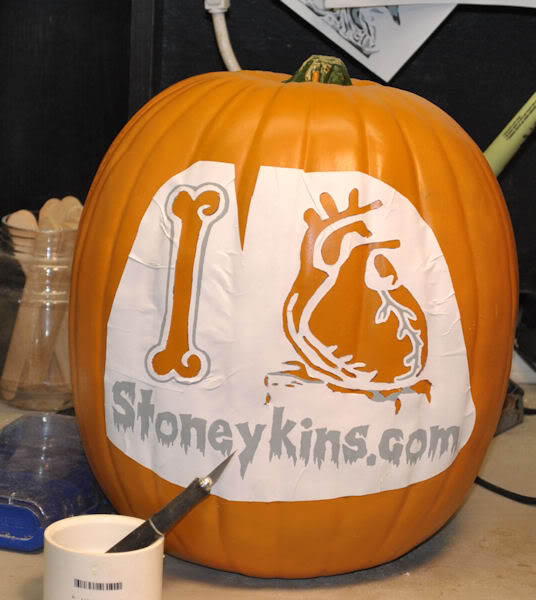 #7
Outlining the Cut-Out Shapes
If you don't already have this Dremel Drill Bit Set, Buy One !
The Bit were going to use For ALL Cut-Outs is the 1/32" Bit.
(That Little Itty Bitty One)
Now these do Break from time to time, So Make sure you buy extra 1/32 bits.
You will not need to buy the Set again, Just the 1/32" Bits
The Set is good to have, You can Use them to make Windowkins in Foam Board.
Or Using your dremel to drill Holes in things around the house.
(It's a Mini Drill) ;)

I now Recommend these #66 Bits, they are the same size as the 1/32"
They are much Cheaper, Buy in bulk and save in shipping.
https://widgetsupply.com/product/D-BS06.html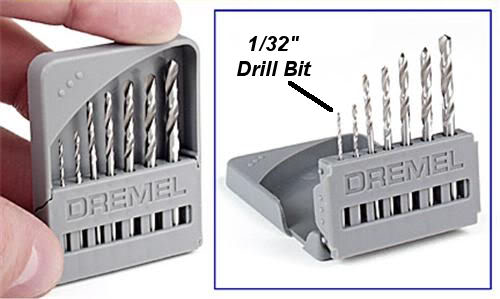 So we start Cutting the Shapes Out,
When we get to the Part I circled Were Going to Switch-up !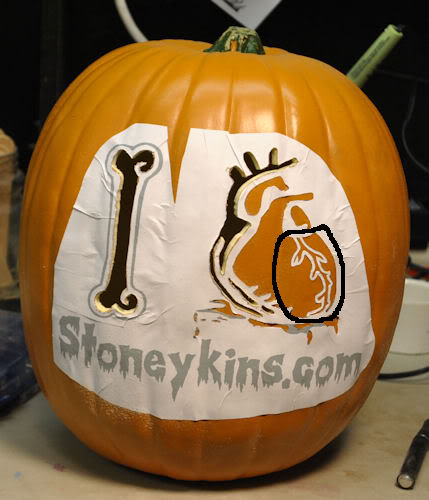 The Shape that I circled Would be hard to Shade Later,
if I removed the two Cut-outs on both Sides of it.
So Were going to Shade that NOW, then Cut-out the Two Shapes.
We'll get into Shading Soon: "X-Acto First then Shade".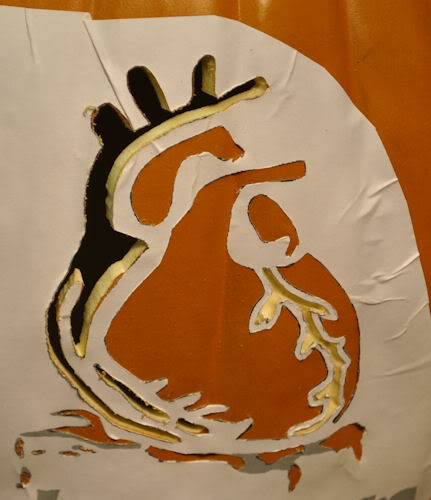 Here's Our Pumpkin With All the Cut-out Shapes Cut.

Let's Move on to Shading !

#8
Outlining the Shaded Shapes
This Step is a MUST ! You can't Skip it, or your carve will not Look Nice & Clean.
Like the Cut-Out Outlining, you can Use an X-acto or 1/32" Bit on a Dremel.
Same As Before Were going to Use the X-acto:
Using an X-acto does take time, but you do get Better and Quicker the more you Use one.
Here's Our Pumpkin with ALL Gray (Shaded) Shapes Outlined and Paper Removed.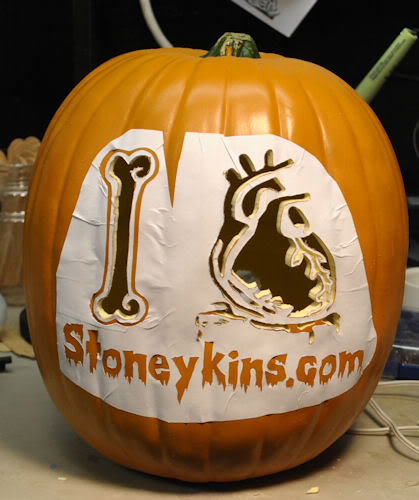 The Next part will be Shading the Pumpkin:
This will be a little more Lengthy, I want to cover a bunch of Different Bits
And What they are Good For.

#9
Removing Paint & Rough Shading
Basically I use the Same type Bits for ALL Rough Shading.
Just Different Sizes Depending on the Shape that needs to be shaded.
(Notice I don't say Shave - I hate that Term) It's either Shaded or Engraved !
So we'll Go with Shaded. - LOL !
Shading Small Shapes
The Bits I use for Small Shapes or Lettering is these.
I will Also use these to Outline the Larger Shapes Once More.
. These are Dremel Brand Bits. the Bit Number is below each Bit.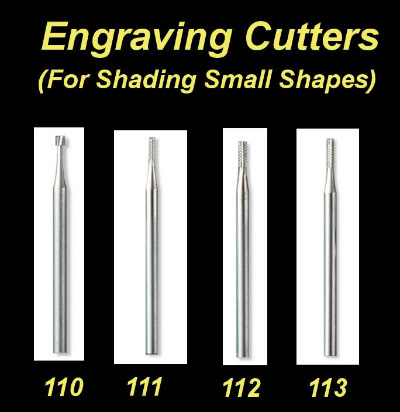 You Can Buy them Here $2.50 Each: https://widgetsupply.com/category/dremel-engraving.html

#10
Shading Large or Larger Shapes:
For Shading Larger Areas, Nothing Beats these Bits.
This will also Fix Your Paint Rippling Issues.
Bits 193 & 194 Will be Used More than the Others Shown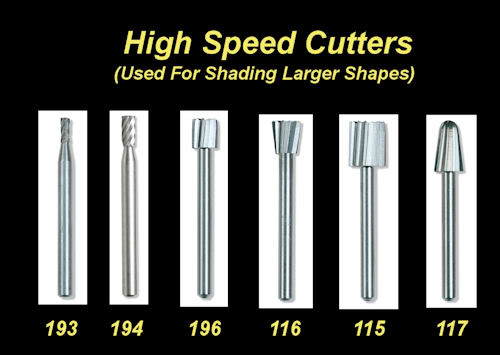 Buy them Here $5.00 Each:https://widgetsupply.com/category/dremel-steel-burrs-cylinder.html
Here's the Pumpkin for Which I call Rough Shading Paint Removed, And Deep Enough !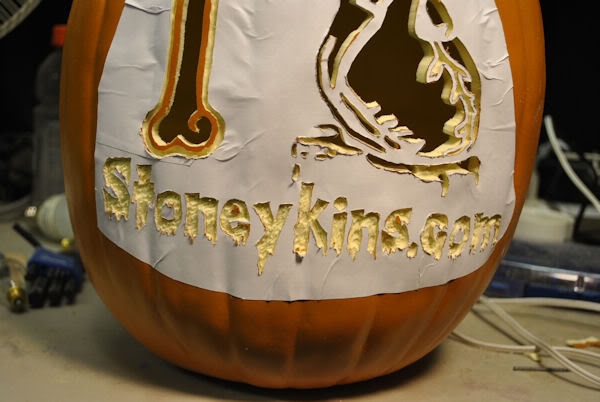 #11
Sticker Paper / Pattern Removal (NEW info)
There Has been Issue with Sticker Paper removing Paint from the pumpkin, in the past few years.
So We Recommend using a Heat Gun to warm the Stick up, while you remove it.
One can Purchase one at Harbor Freight for $14.00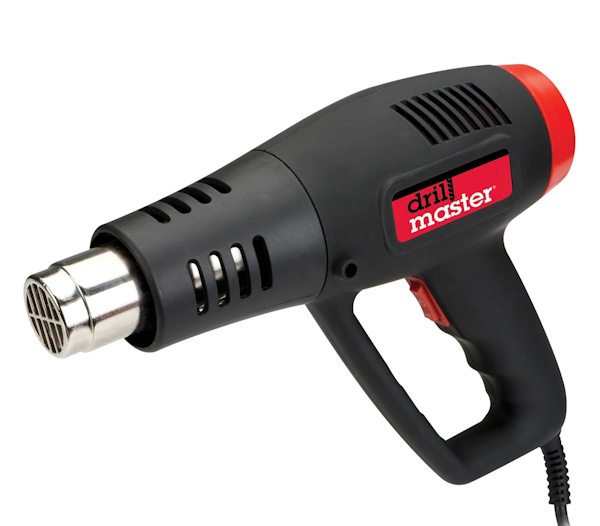 #12
Pattern Removal
This is one of the Best Benefits on using Sticker Paper.
Remove the Pattern While the Pumpkin is DRY !
No more soaking in a sink, and Waiting For the Foam to Dry, to do the Clean-UP.
and Smoothing out. Just Remove ALL the Paper and Toss it in a trash Can.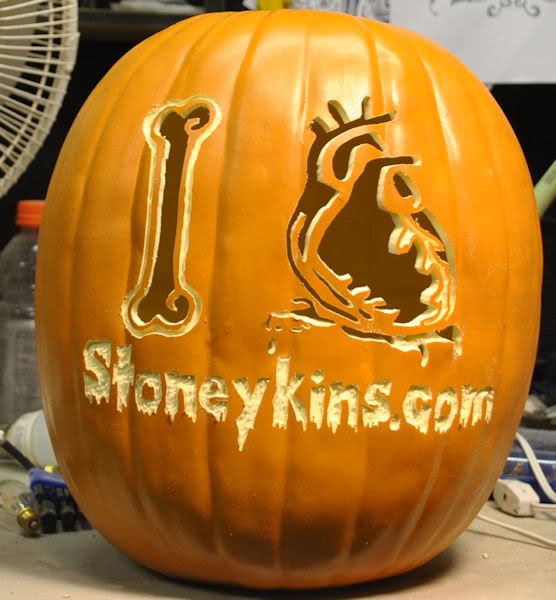 #13
Smoothing Shading & Clean Up
For Smoothing Out the Shaded Area's
I use (2) Different Types of Bits
Diamond Bur Bits (For Small Shapes)
a) Diamond Coated Bur Bits (You can buy Complete Sets on ebay for Like 10 Bucks.)
You WILL need a Set, for they come in Different Sizes,
for Small Shapes you will need a Small Bur For Larger Shapes,
a Larger Bur. I pretty Much Use Just the Straight ones on the Left. From 1 to 11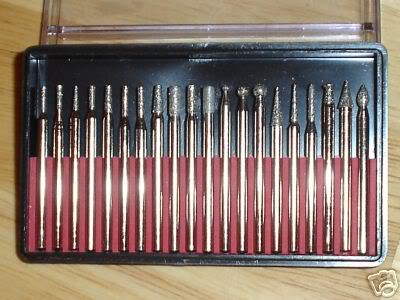 Aluminum Oxide Grinding Stones (For Large Shapes)
Thanks To Doh for this Tip, These work Great in Large Area's

NOTE: Here's Another Carver Doh Tip, You can Get Both Sets (Diamond Burs and , Grinding Stones)
+Many More Items in this 80 Piece Rotary Tool Set at Habor Freight for $9.99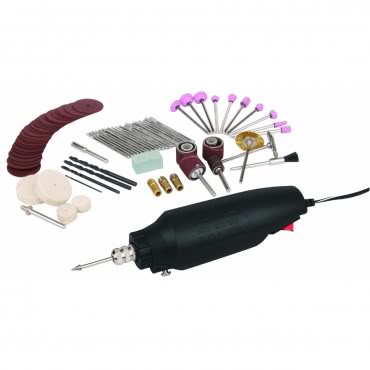 Here's Our Cleaned up Shading, As Clean As I want it to be,
I don't have hours to spend making it Silky Smooth.
Plus I really Do like the Handmade look to it.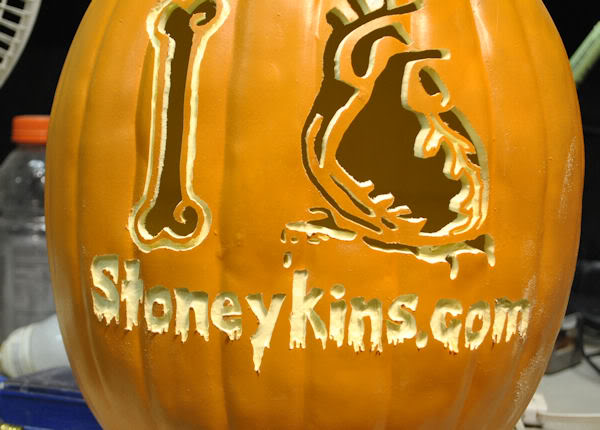 Here it Is Lit - Before Giving it a Rinse in the Sink
The bulb is a Little Bright, I'll shoot it Again For the Finished Carve.
After It's Cleaned in the Sink.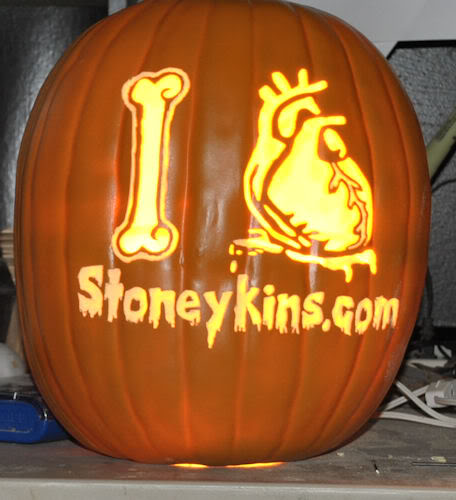 #14
Cleaning the Finished Carve
This Is much Easier to Clean, Because of using Sticker Paper.
You will still want to toss it in the Sink to rinse off any Pumpkin Dust,
If there is some Residue Still on the Pumpkin from the Sticker Paper.
Just use a SOFT Bristle Scrub Brush on it.

#15
Lighting the Pumpkin
For Lighting Foam Pumpkins, I Like to use Clip In Lights.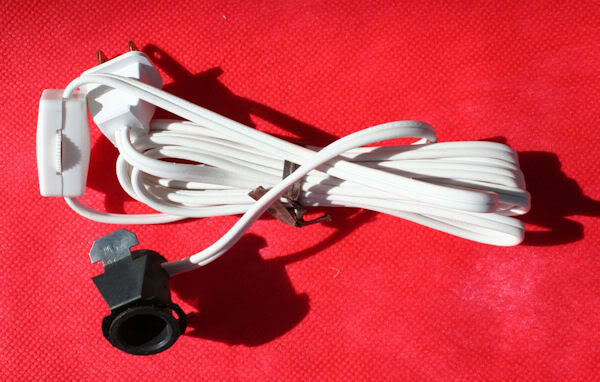 You will want to Drill the Hole Using a 1 1/8" Hole Saw.
Doing it by Hand will not make a Perfect Circle.
Here's a 1 1/8" Hole Saw. this Just Hooks up to your Drill
The notches on the Sides of the hole Saw, are there to stick a Screw Driver in to push out
the Circle Piece you cut out of the Pumpkin.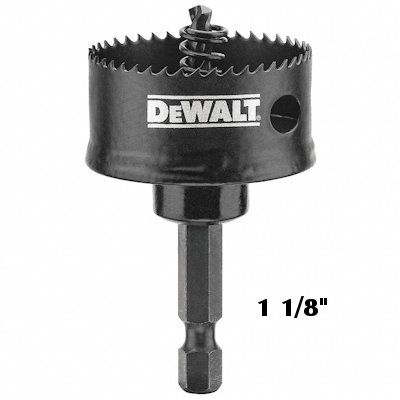 NOTE: The smaller the teeth the better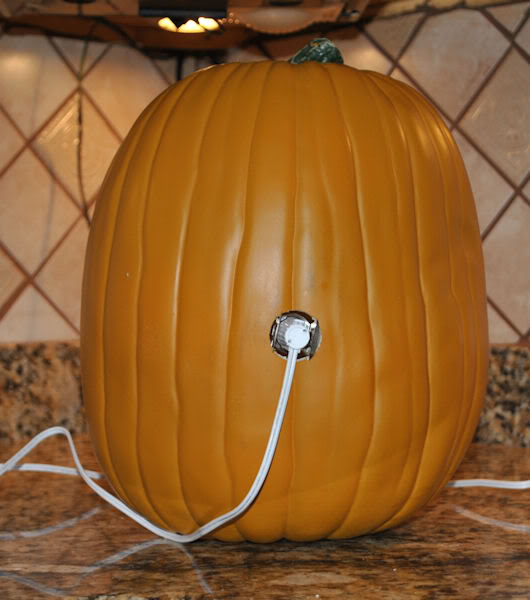 #15
Our Finished Carve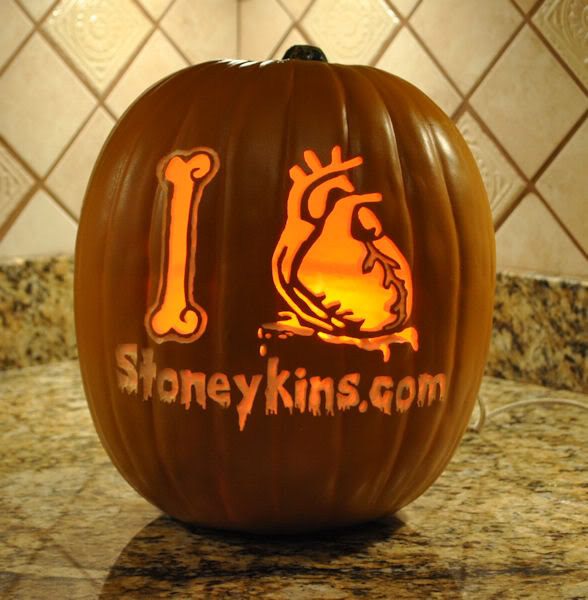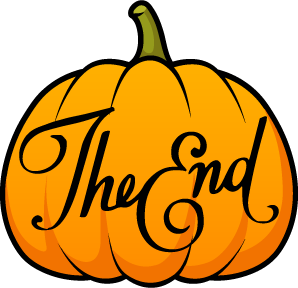 HOME - PUMPKIN PATTERNS - CUSTOM ORDER - FORUM - HOW TO?
CARVING TOOLS - MEDIA - LINKS - SITE MAP - TERMS OF USE / PRIVACY POLICY- CONTACT US