How to Make
Painted Cut Out Yard Art
Using 1/2" Sanded Plywood

#1
This is what we will be Making.


The Tutorial is based on using a Poster Program to print the Pattern
1/2" Sanded Plywood, Craft Paint and Hardware to Mount it

This Snoopy Halloween Piece is 36" Tall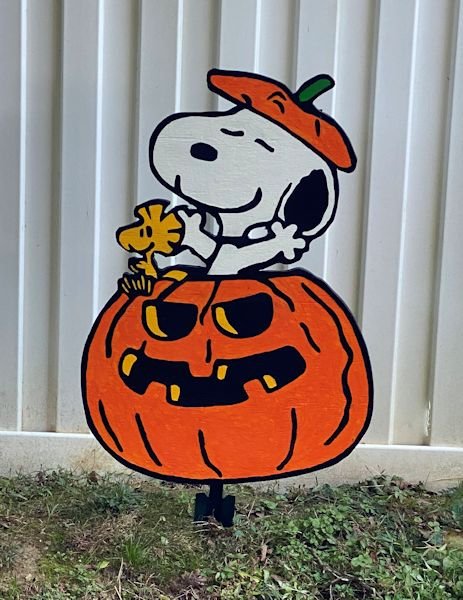 For this Exact Project I'm including ALL Files -
You will not Need a Poster Program If making this Snoopy
I saved a PDF Full Pattern Size.
It will Print out 12 Sheets of Paper.
There is a Line Drawing and Color Version Also included.
#2
Blow-Up the Pattern to the Size you Want.


Now that we have our Pattern Picked Out And We Know what Size we want to Make it.
We now need to Blow it up to the size we want.

I use a Poster Program to do so.
The Program I use is called Poster Printer

There is a Link Below on How to Purchase and Use this Program.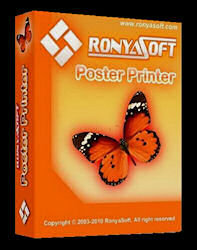 #3
Here's the Pattern Printed Out 36" High
This is the Exact Same Process as the Pattern Printing and Transfer for a WindowKin.
https://www.stoneykins.com/Windowkin_1.html
My Printer can print Paper That's 11" x 17" Which is what's Shown in this Photo
Any Printer will work, by printing on Standard Printer Paper Sheets. 8 1/2" x 11"
There will just be More Sheets to Tape together / Assemble.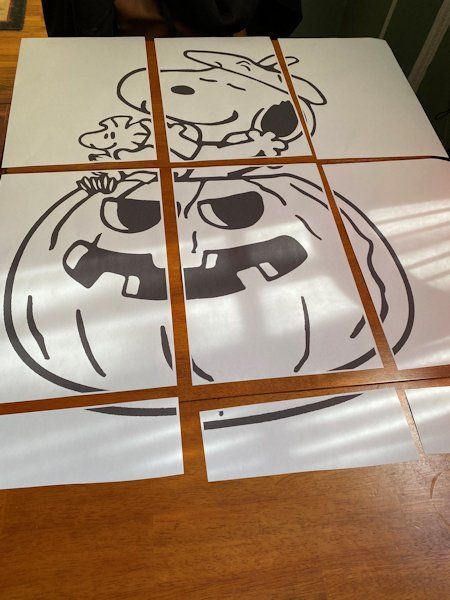 You will need to Trim the Sheets
Then Tape them together
Tape all the Seams.



#4
Cutting the Plywood to Size
Once your Pattern is Taped together
Lay it on top of the Plywood
I give the Board a Few extra Inchches all Around, This makes cutting the Shape Out, Much Easier Later On
Place the Pattern on the Plywood
And Mark your Cut Lines, then Cut with a Circular Saw (or JigSaw)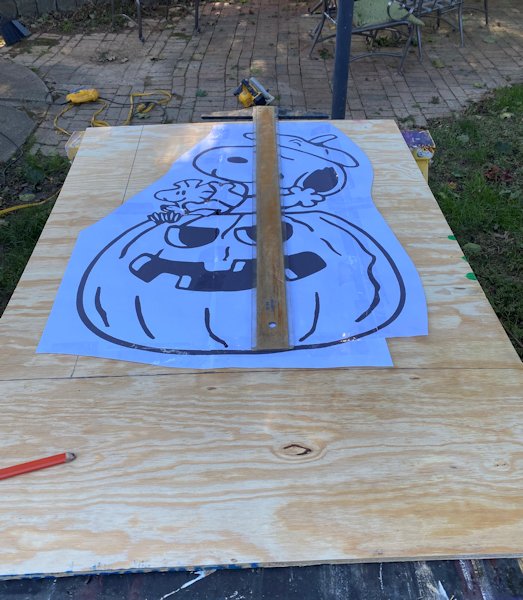 That'll Work !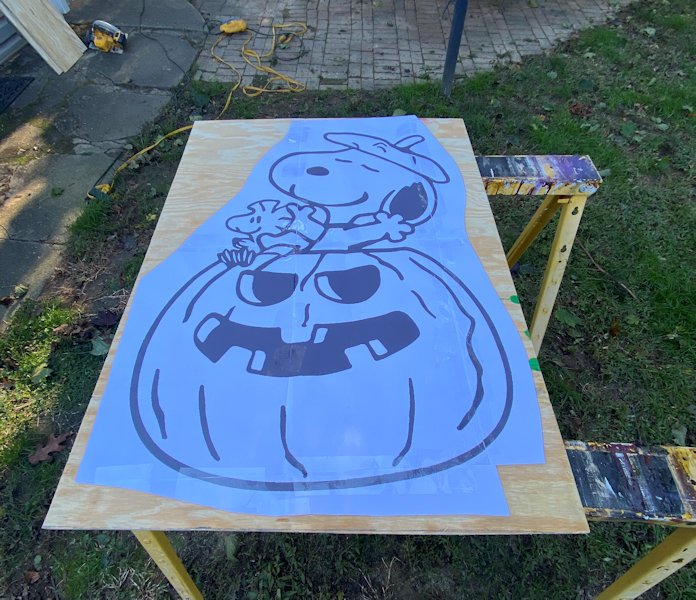 #5
Craft Paints Used for this Project
Brand = DecoArt Americana Acrylic Paint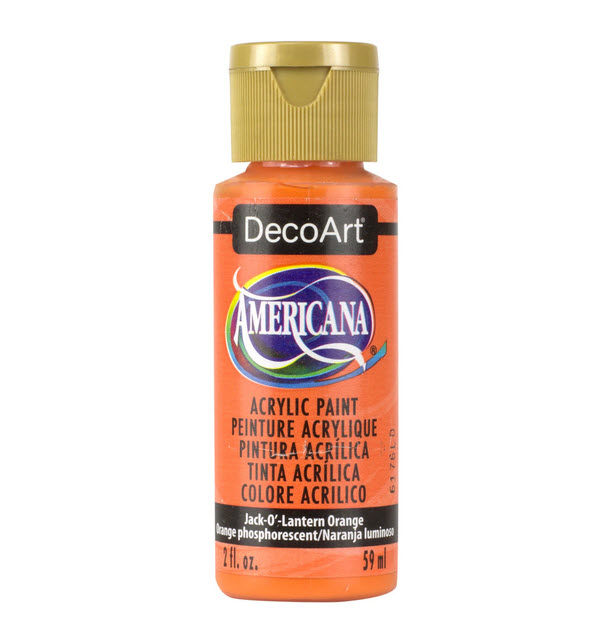 You Will Use a Lot of Both Black and White for Making These, So get the Larger 16oz Bottles.
Snow Titanium WHITE - 16oz
Lamp (Ebony) BLACK - 16oz
Jack-O'-Lantern ORANGE - 2oz
Leaf GREEN - 2oz
Primary Yellow - 2oz

#6
Lets Paint the White Base Coat ( Two Coats )
Always Use White as the Base Coat!
Use a Plastic Drop Cloth Underneath
( you could also just use a Plastic Tablecloth from the Dollar Store.)
Pour Some White paint on the Board and Use a 2" or 3" Disposable Brush to cover the Board.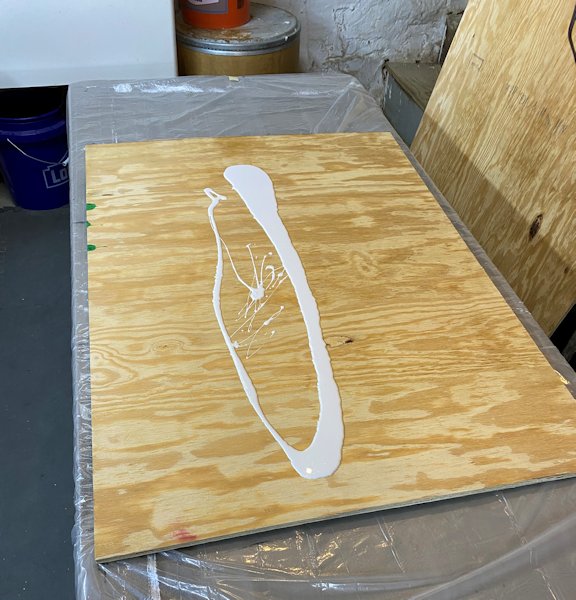 NICE and EVEN ! - Let Dry for a Few Hours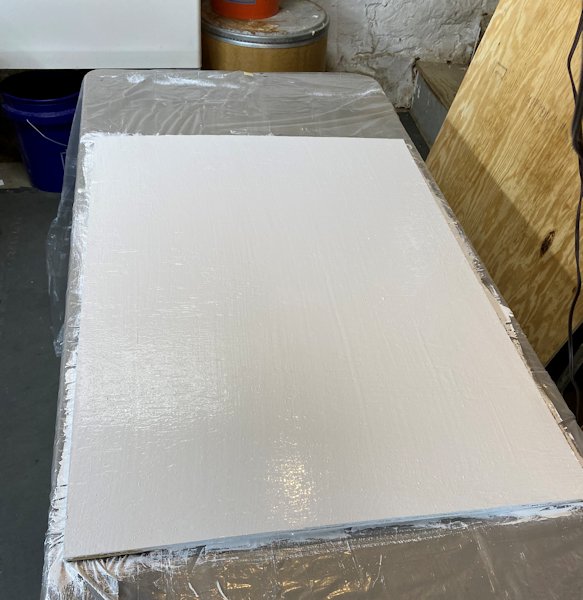 #7
Once the White Paint is Completly Dry
We will Use Saral Transfer Paper for the Pattern Transfer
You Can Use either Blue or Graphite on the White Base Coat.
"Graphite is MUCH Better",
(but I had Blue on Hand, So I used it)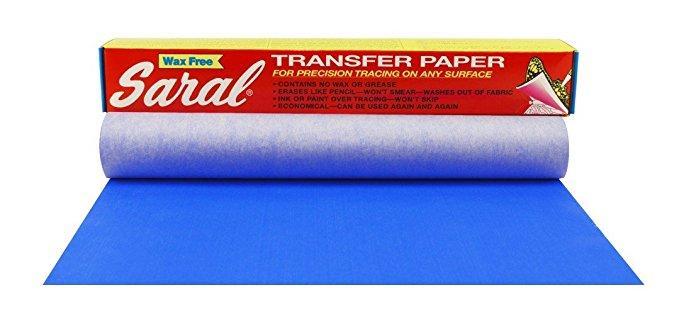 Securely Tape The Top of the Pattern To the Top of the Board
Cut a Peice of The Saral Transfer Paper the Entire Width of the Board.
You will use this one Sheet for the Whole Transfer.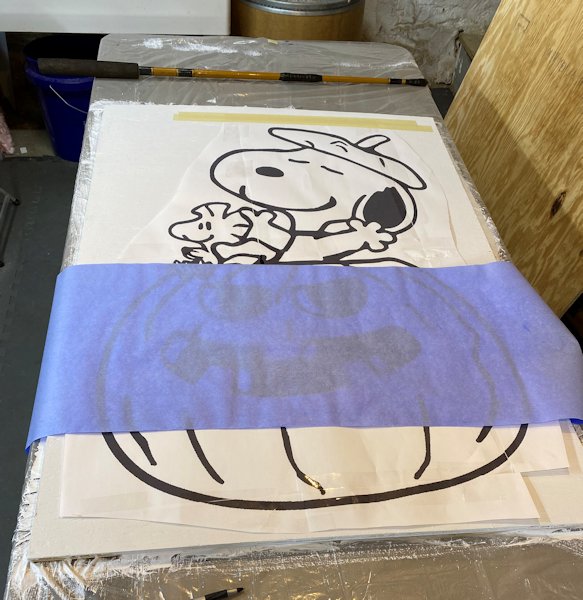 #8
Lay the Tranfer Paper Face Down,
Under the Top of the Pattern
Use a Ballpoint Pen and Start Tracing the Pattern
Try not to Rub your Hand on the Work Space, this will Smear the Transfer
Try to Only Move the Pen on the Paper
Trace BOTH the Out-Side And Inside Lines. (this will give the right thickness with all the Lines in the Artwork.
Many Other people that make these Cut-Out YardArt, Just use a Sharpie Marker and add Very thin Lines.
My Way may take a little longer, but Will Look SOOOO MUCH Better!

So Start by tracing the Top Portion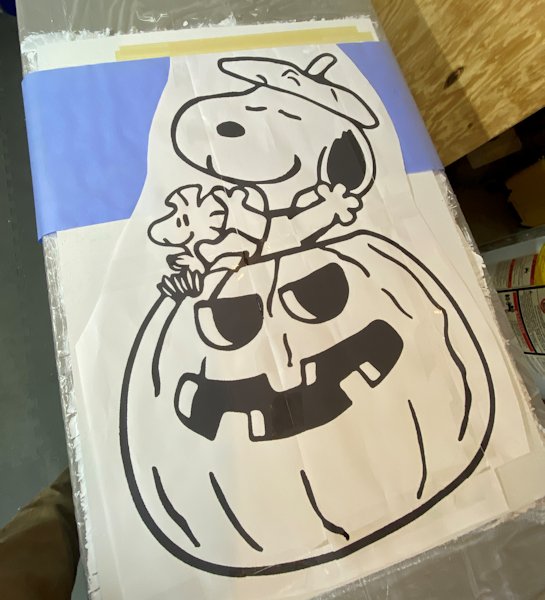 Once that's Done Move the Transfer Paper Down and Do the Next Section.
Don't Drag it, it will Smear.

Lift the pattern up and Pick up the transfer paper, and place it in the New Section).
Place the Pattern Back Down
And Continue to Trace.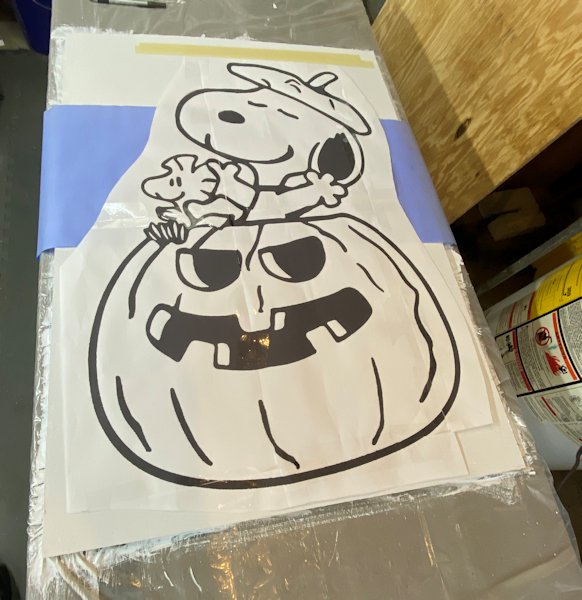 And So On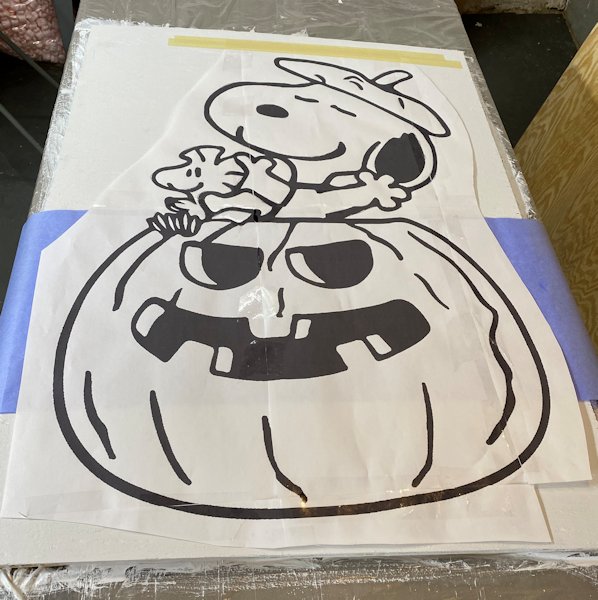 And So On - Until Everything is Traced



#9
Leave the Pattern Taped Down - Do NOT REMOVE It YET !
Lift the Pattern Up and Check that you Traced EVERYTHING ! Double Check !
I did this on purpose, See I missed WoodStocks Eyes !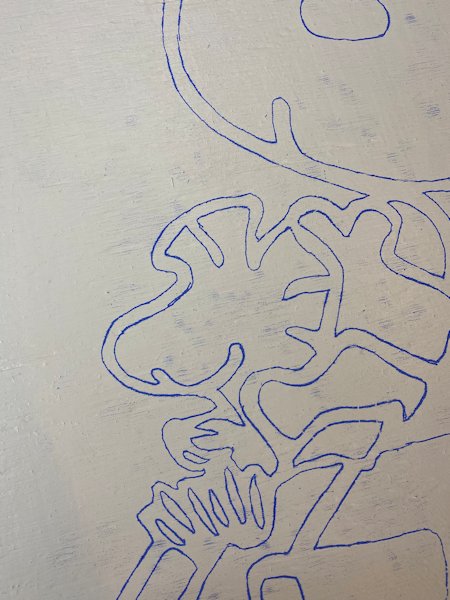 Place a Small Peice of Transfer Paper over Woodstocks Head
Lay the Pattern Back Down and Trace the Missing Shapes.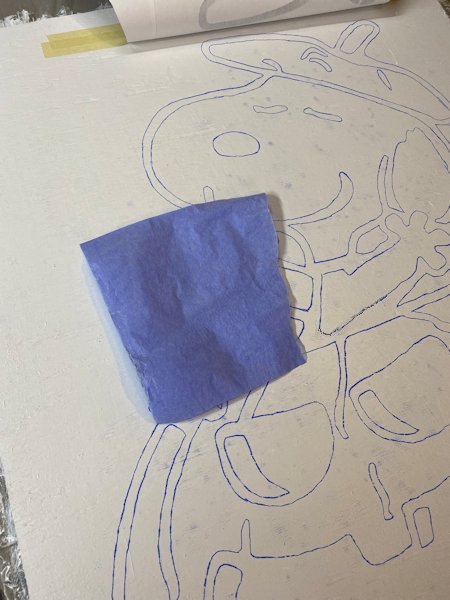 There That's Better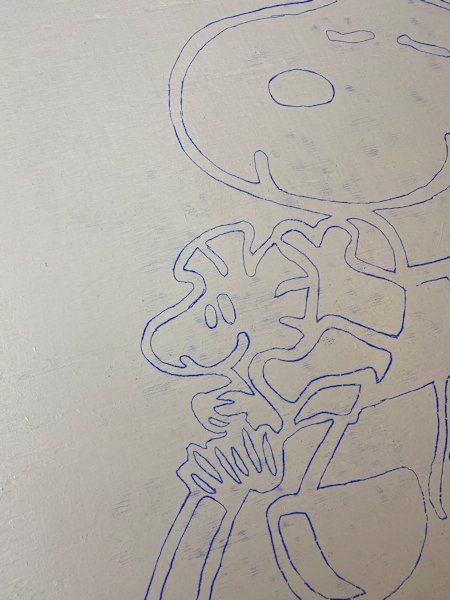 #10
Remove The Pattern
Once you are 100% Sure everything was Traced - Remove and Discard the Pattern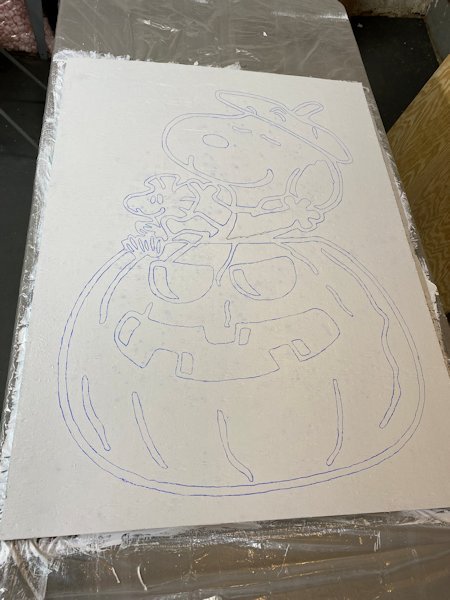 #11
Time to Start painting the Black Lines and Shapes
Tip to keep your Hand off the Painted Area (as you paint)
And give your hand something to LEAN on - Use a a Mahl Stick to paint - You Can Make your Own.
I Just use a Wood Dowl, with Wrapped Electrical Tape on the End to Form a Ball.
I Also use Small Plastic Cups to Hold the Paint.
Brushes Used For Outlining - #3 & #4 Round Brushes
Start at the Top and work your Way Down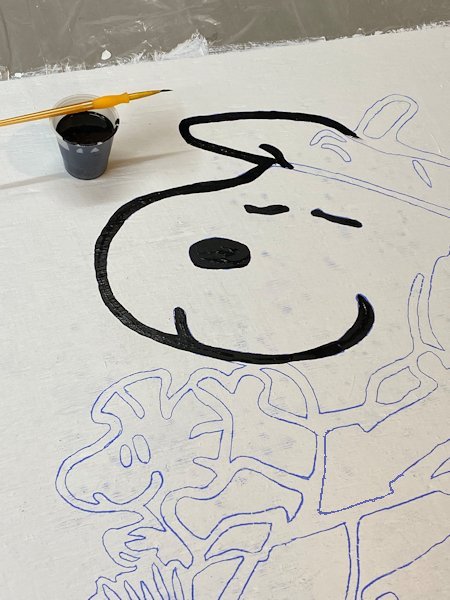 Looking Good Keep Going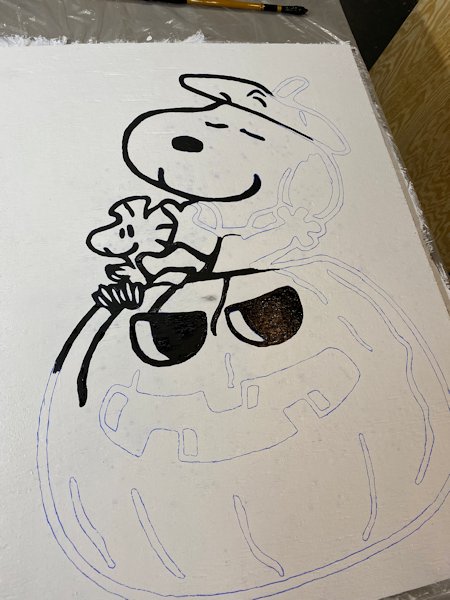 And Done with the Black (for Now). - Let Dry !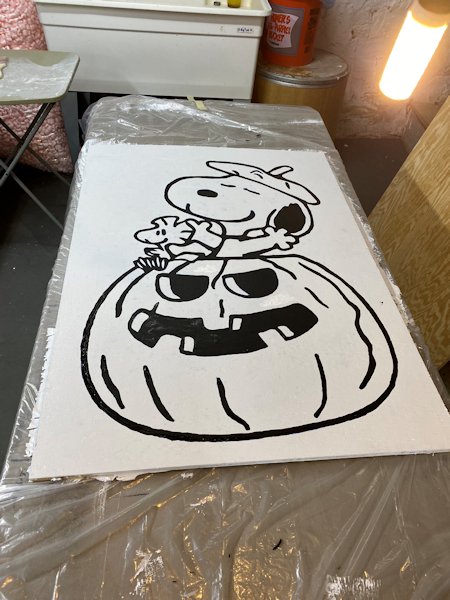 #12
Now it's Time to Cut the Shape Out with a JigSaw
Grab your Jig Saw And Drill - Corded or Cordless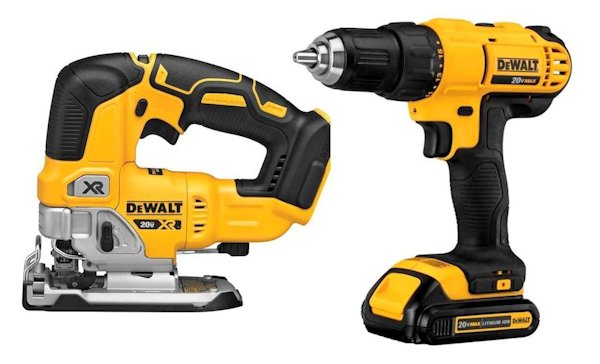 Before You Start Cutting Anything.
Drill Some Holes where Sections need to be removed inside the Design
this Helps Alot,
you place the Saw blade in these Holes.
Then Start cutting that Shape
I used a 13/32" Drill Bit for these holes
I will Also Add Some Holes in Tight Spaces,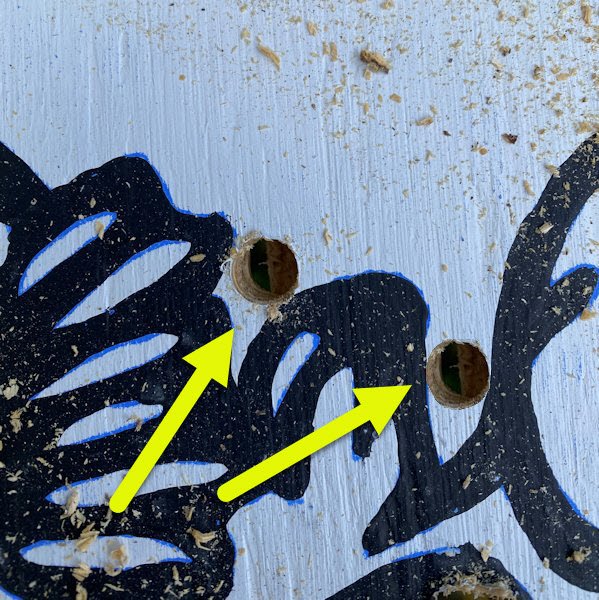 JigSaw Blades Used, Bought this Set at Lowes
Bosch 10-Pack T-shank High-carbon Steel Jigsaw Blade Set
( Make sure your Jigsaw takes T-Shank Blades before Buying These )
The T119BO is a Scroll Blade Great for Curves (and has 12 Teeth per Inch).
The T101B is Great for Cutting the Outside Shape (and has 10 Teeth per Inch)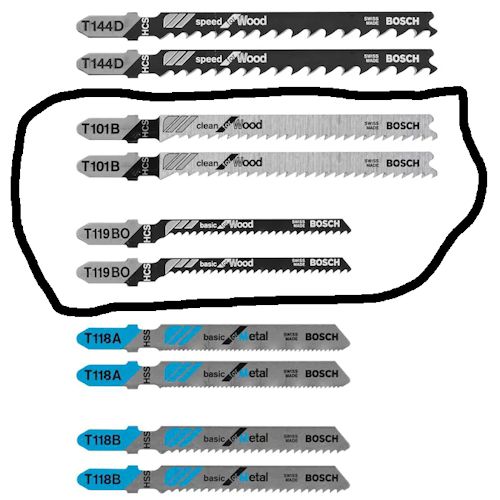 #13
Here's Our Finished Cut Out Shape
Don't Worry About the Ouside Black Lines getting Choppy or Sloppy Looking.
We will fix That Later!
If you Like you Can Sand All around the Edges with a Sander.
You could Also Use a File for those Inside Small Cuts to smooth those out.
HOME - PUMPKIN PATTERNS - CUSTOM ORDER - HOW TO?- CARVING TOOLS
MEDIA - LINKS - SITE MAP - TERMS OF USE / PRIVACY POLICY- CONTACT US